Techradar
Timestamp: Mar 15, 2023
Google has just announced a huge set of new AI tools that could change the way we use some of its most popular apps, including Gmail, Google Docs, and more.

In both an official blog post and video (below) the tech giant revealed several new AI tools that will be coming to its most popular apps. The first ones will initially only come to a select group of testers in Gmail and Google Docs, but we've also been given a tantalizing preview of the ones coming to Google Sheets, Google Slides, and Google Meet, too.

The move is most likely to rival competitors in the AI space like Microsoft's ChatGPT-powered Bing and Microsoft 365. Since AI has grown in popularity, Google has been scrambling to match its rivals' moves in the market, going so far as rushing out an announcement of its own Google Bard chatbot, which still isn't open to the public. There was also an underwhelming presentation that even had its own employees rolling their eyes.

Still, the results from what we've seen in this demonstration look far more practical and promising than the AI tools Google has announced so far. They've been integrated into Google Workspace, so users will soon be able to use generative AI in several writing features. For now, only trusted testers will have access to these new tools but after that, they'll be rolled out to all Google users.

So, in no particular order, here are all the best AI tools coming to Google's line of products.

The 5 most useful AI tools coming to Google apps 1. Gmail: instant summaries of long conversations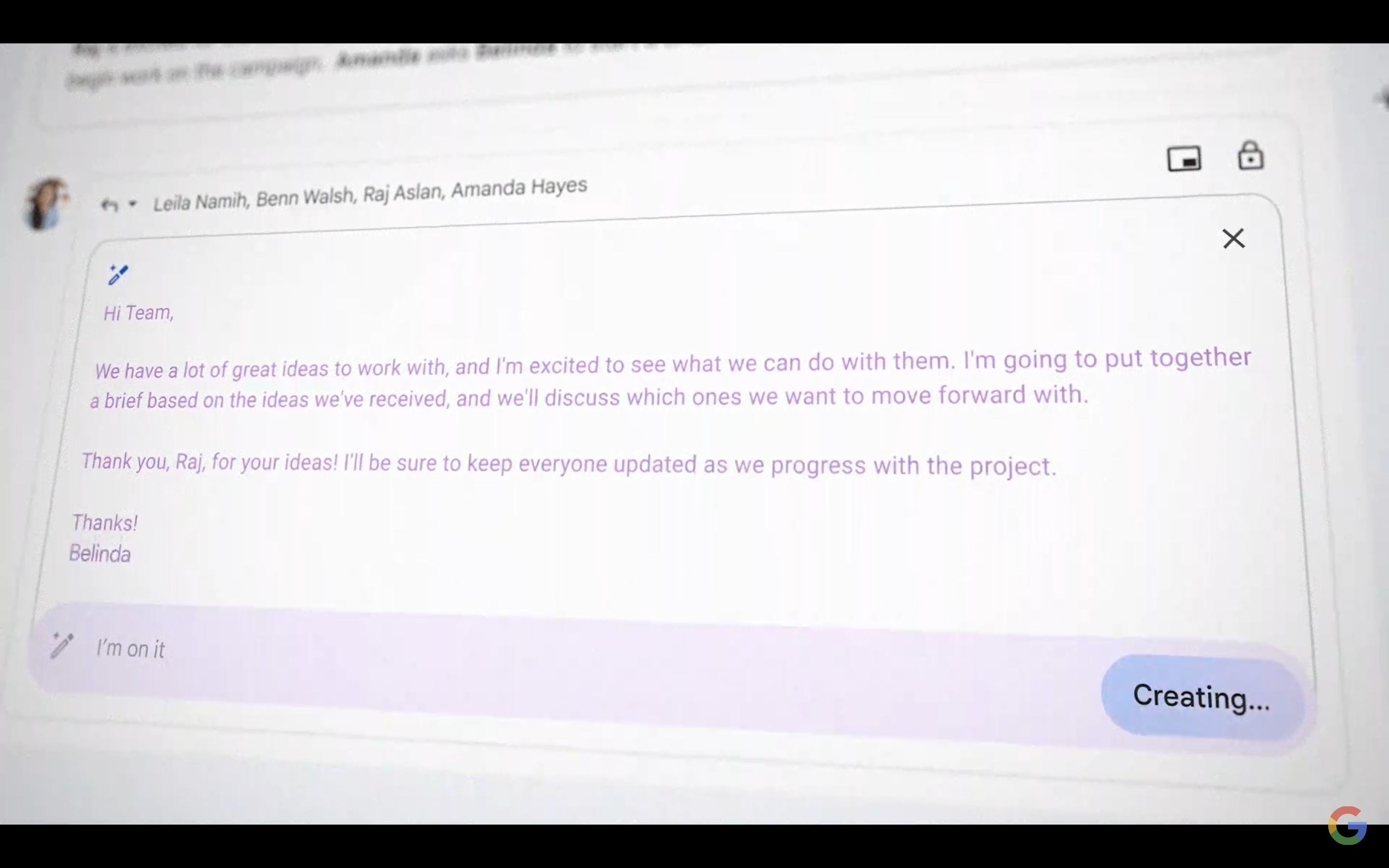 (Image credit: Future)

If you've ever opened up your work email only to find an extremely long and confusing email chain, this tool could be for you. This particular AI tool allows you to quickly summarize long email conversations, pulling out the most pertinent information and laying it out in a neat box.

From what we've seen from this demo, it even adds the names of those involved in the conversation, giving the summary even more context and clarity. And it drafts a response based on all the information gathered. Of course, it remains to be seen how accurate this tool will be, as any missing information from said summary could be detrimental to your work.

Most likely, it'll use machine learning to improve its quality of work, which should mean it doesn't skip important information as it's used more often.

2. Gmail and Google Docs: time-saving drafts when you type in a topic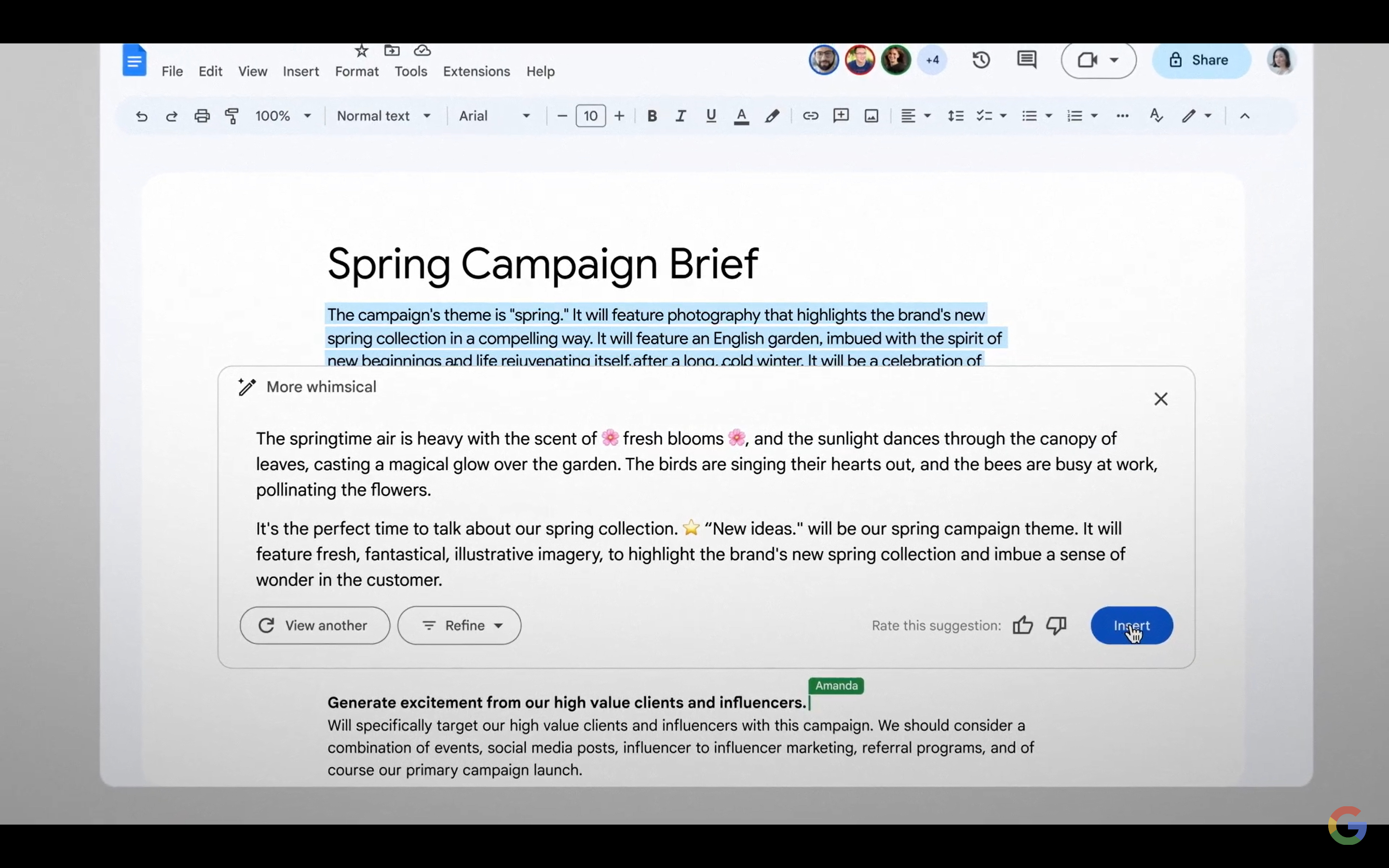 (Image credit: Future)

Out of all the AI tools showcased in Google's presentation, this AI writing and brainstorming feature looks to be the most promising. As demonstrated in the demo, a prompt that states "Help me write" followed by the request "Job post for a regional sales rep" results in an instantly drafted job post.

From there of course the human user would edit and refine the document, but having a draft instantly created saves plenty of time and effort. You can also use the tool to add certain tones to your document depending on the situation, like whimsical or formal.

There's a lot of flexibility in this AI tool, and the fact that it works for both drafting documents and emails should make it even more valuable.

3. Google Slides: AI-generated presentations with imagery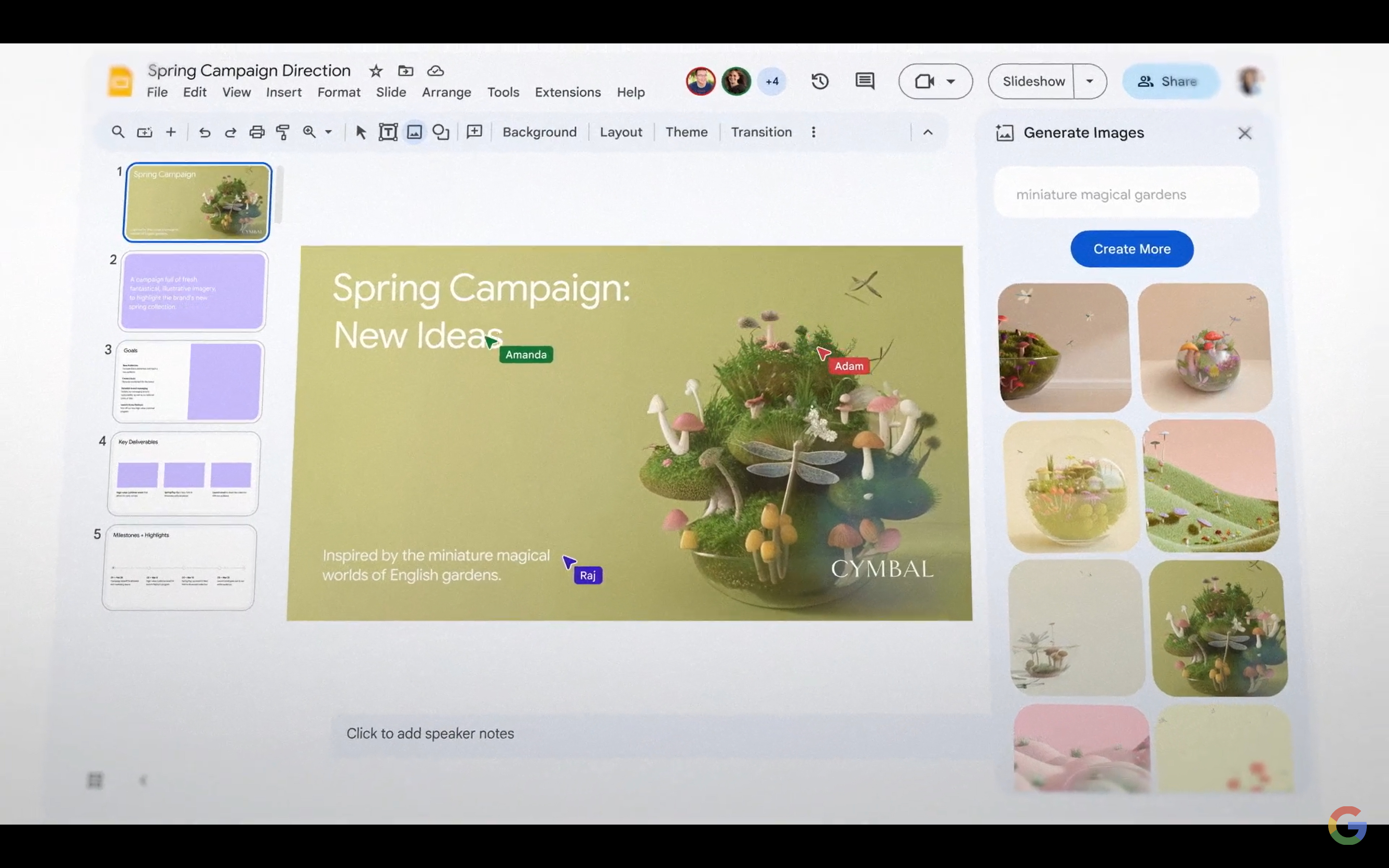 (Image credit: Future)

This is easily the most controversial of the new batch of Google's AI tools. The core of the concept, creating slides for a presentation in Google Slides, is a smart one that could save a lot of time and energy in terms of creating layouts instantly. However, unlike the other tools that use text already written by either you or coworkers, this tool creates images, audio, and video, then inserts it into your presentation.

But where does that media come from? A database gathered by Google's AI of course. But then where does the AI pull the references from to generate this content? That's the problem and something Google will likely need to address.

As it stands, there's been a lot of misuse of this tech to the point of even plagiarism, and it remains to be seen if Google is using a personal database or pulling from the internet to create this content.

4. Google Meet: capture notes through AI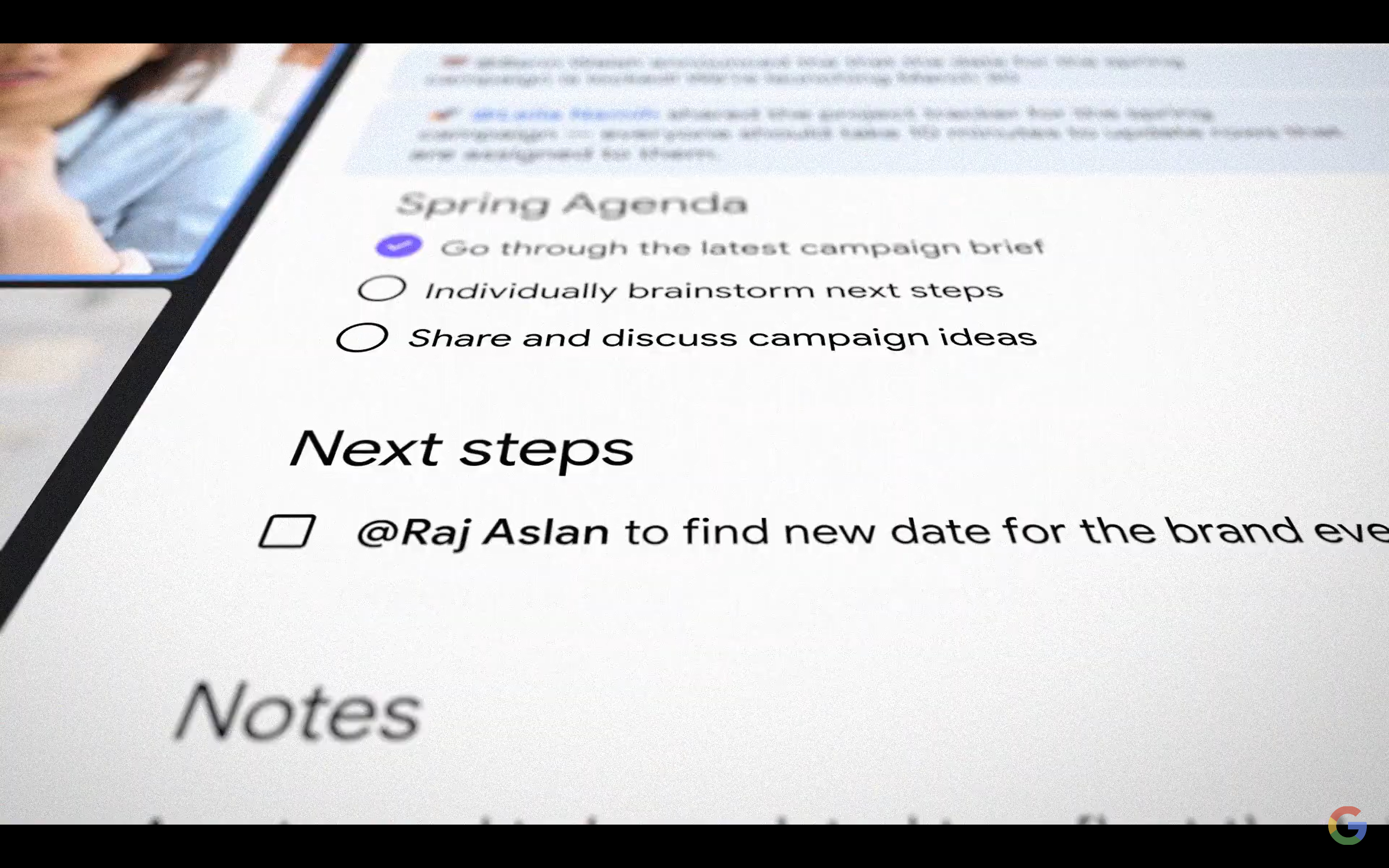 (Image credit: Future)

This is another AI feature that could potentially save a lot of time and effort. This tool captures notes from conference calls and other meetings with audio, then takes "notes" of that meeting, summarizing the most important points in an easy-to-parse format.

Judging from the demo, the most impressive part of this note-taking tool is how it organizes the notes, using complex formattings like bullet points, calendar icons to indicate an important date, headings, and more. It not only looks incredibly organized but works at a far faster rate than a human could.

This tool would leave time and energy for everyone to focus on the meeting itself and not need to devote a person to take these notes. Meaning that everyone can participate.

5. Google Sheets: auto-fill data entry with AI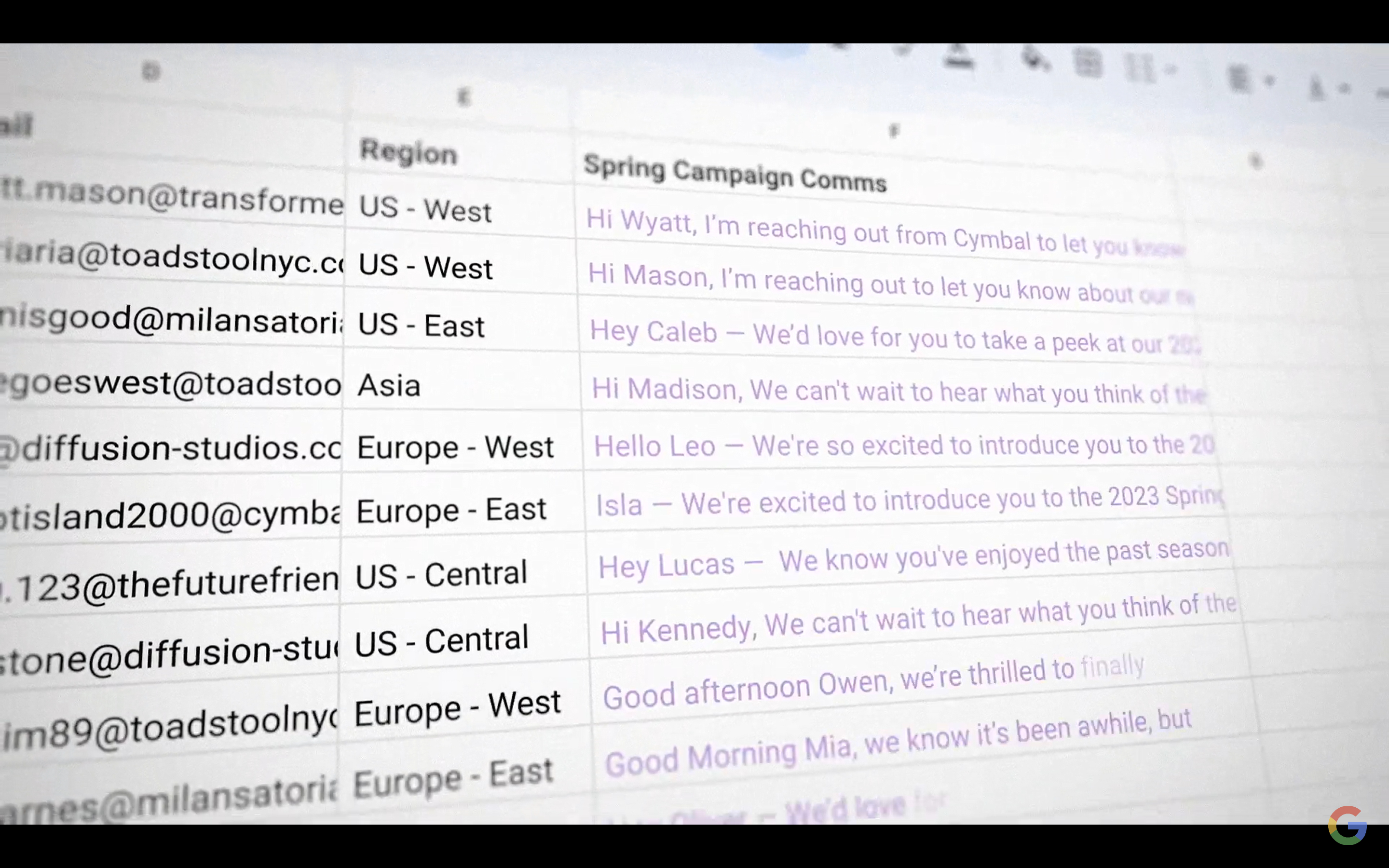 (Image credit: Future)

Data entry can be repetitive and boring at times, or even confusing when dealing with extremely large sets of data. This AI tool would be especially handy in parsing dense amounts of information, then converting that information into data charts.

The demo showed the command "Personalize messages for our client" and then next to each entry created a unique message for each of them, most likely as a mailing list. A task that would take a human a long time to accomplish was done in an instant. 

Of course, a human would have to edit each message to ensure quality, but having the drafts done is an incredibly useful and time-saving first step.
Pages