Deadline nearing for Outreach Program for Women
Submitted by

thedosmann

on Fri, 03/07/2014 - 10:08
"The Outreach Program for Women (OPW) helps women (cis and trans) and genderqueer get involved in free and open source software. "
 The deadline, March 19, 2014, is fast approaching for enrollment in this tremendous opportunity for professional mentoring in software development for woman. The program offers the incentives of working with high profile companies and being teamed with mentors to guide you through the process. There are also financial incentives of up to $5,500.00 during the 4 month internship period.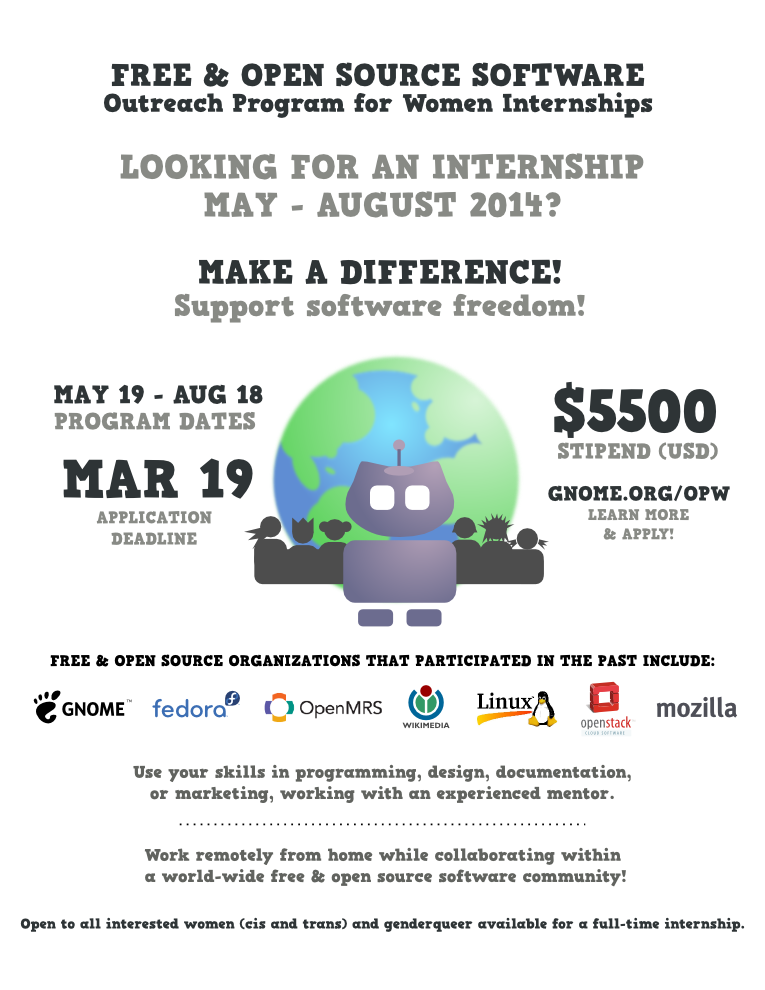 Woman who have recently graduated or who are currently enrolled in the computer science field,  woman seeking to enter or further enhance their career in open source software programming, or even woman who do not want to code but simply wish to contribute to the open source community, can benefit from this program. The program is organized by the Gnome Foundation and sponsored by companies like Python, Twitter, Wikimedia, and many more. For a complete list of sponsors click here.
 If you are a woman and want to add to your portfolio and receive programming guidance from some of the brightest minds in the coding community and at the same time gain exposure to invaluable experience in coding don't let this opportunity pass you by.
by Jim Atkins 'thedosmann'
Memphis Web Programming / AA5973ZGN6PR
Share it now!